The good news for many minority students is that there are many scholarships and grants that are specifically geared towards scholarships for black women.  There are many scholarships for black women available, for example, which gives strong African American women the support and funding to help them through college. Finding a combination of enough grants and scholarships to cover the full four year expenses of college (or even more for grad school) can be a challenge.  There are plenty of organizations and groups that offer money for women in the form of both scholarships and grants.  Potential students would be fools to not look at every single option they have for funding higher education.  Whether it's a group specific scholarship, like the ones for African American women, or from a charitable organization like the Hispanic scholarship fund found at hsf.net, students have a lot of options to find funding. Every avenue should be explored!
Where can I find information on scholarships for black women?
There are many different places where this information is available.  While the first instinct might be to "Google it" (and that's not a bad idea), there are several other things you'll want to think about before just jumping on the search engines.  One is to look up groups or organizations that specifically focus on helping out the African American community, like the United Negro College Fund (UNCF) or National Association for the Advancement of Colored People (NAACP).  While these two might be well known for offering African American women scholarships, there are many other similar groups that aren't as well known.  Many groups looking specifically at providing money for women going to college will also give grants and scholarships that can help out.
While it can be tempting to stay online and just go through the first few pages of several Google searches, someone searching for scholarship options for black women should go a few steps further.  Why just stay online?  Local high schools, colleges, civic organizations, or even churches may have information on grants for African American women going to college, or scholarships offering money for women going back to school in general.  Don't limit the number of places where you look for this information.  The next one could be key to funding the college of your dreams!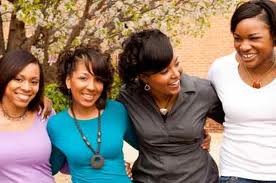 Application Tips and Advice to Secure Scholarships for Black Women
While many sites offer some basic universal advice for applying for scholarships for black women, it's important to remember that each scholarship is going to be different.  Different organizations have different priorities when it comes to scholarship applications.  Just because these scholarships for black women are not readily accessible, does not mean an applicant should change the way they go about applying.  Always have an up to date resume, transcripts, and double check those essays for spelling and grammar!  Organizations providing money for women or African American women are still going to choose the best applications that come in.  That means the competition is still going to be stiff for Grants for Black Women.  Just a brief look at sites like hsf.net show that there can be significant competition so it is always best to stay ahead of the knowledge curve by informing yourself with the resources contained here.