Scholarships for arts students are easily accessible to the creative minded people. Most arts scholarships come in the form of a competition or a contest where students compete for an award based on who is the most creative artist.
As a college student, you can apply for any general scholarships and grants out there to supplement any specialty awards you receive as an arts student.
There are several fields of study that fall under the arts department of most colleges and universities. Some of the common arts specialties include: Performing Arts (acting, dance, Music and theater), Liberal Arts, Fashion Design, Creative writing, Photography, Film Studies and animation. Some of the scholarships are available only to specific arts disciplines but you will find a lot of them that are available to all arts students.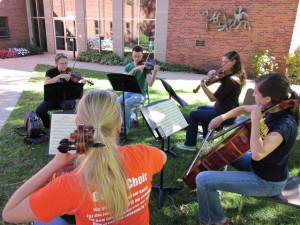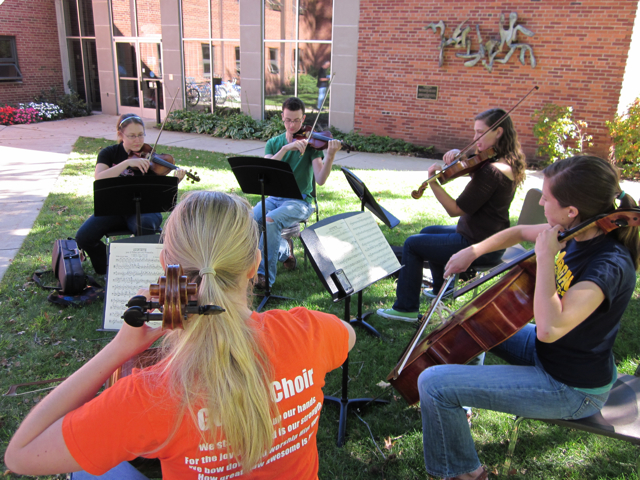 On this page you find a very large selection of scholarships available to arts students in various creative college disciplines. Some of the scholarships available to college arts students are:
Got Chosen Lights Camera Action Video Scholarship:
This is a video contest open to all students. The contest will award a one-time $3,000 prize money to be applied towards educational expenses such as tuition, fees, books and housing. Participants must create an original video and upload it to the Gotchosen website. The videos will be voted on by the public and the winner will be the most popular video.
Eligibility:
Entrants must be residents of the United States, Brazil, Canada, Chile, Mexico and Columbia.
The submitted video must be 3 minutes in length or 300Mb in size. The subject of the video must be in the following categories: dreams come true, comedy, school spirit, your hero and best performance.
Deadline for entry into this scholarship contest is April 15, 2013. For complete information about this scholarship contest and how to apply, please visit http://www.gotchosen.com/VideoScholarship.aspx.
Milton Fisher Scholarship for Innovation and Creativity
This is a scholarship award that arts students are eligible to apply. The award is meant to award students who have innovative and creative ways of solving problems. The awarding body expects to award up to 6 scholarships of up to $20,000. The award received will value from $1,000 – $5,000 per academic year for four academic years.
Eligibility requirements
Applicant must be a high school junior, high school senior or an enrolling college freshman
Current college undergraduate freshmen are also eligible to apply
Applicants must be a resident of the New York or Connecticut planning to enroll in a college or any institution of higher learning located anywhere in the United States.
Or the applicant can be a resident of any state of the United States planning or studying in an institution located in New York City or Connecticut.
For complete information about the scholarship and how to apply, please go to http://www.rbffoundation.org/scholarship.html.
Berklee College of Music Scholarships
If you are considering studying a music program at college, you should maybe consider enrolling at Berklee University. The Berklee College of Music has over $30 million in scholarships funding.
The college has several opportunities for both incoming freshmen and continuing students in the music arts field. Some awards for incoming freshmen include:
The Writing Composition Scholarship: This program awards up to $10,000 per academic year. The award requires students to submit 3 original compositions including written scores.
The Presidential Scholarship: This program awards seven students (5 USA citizens and 2 international students) with full tuition, campus accommodation and a laptop. The award can be renewed for up to four academic years. The award is given to the most talented incoming musicians. There is also an element of financial need involved.
Lollapalloza Endowed Scholarship: This is an arts scholarship program that awards one deserving rock musician with full tuition and housing on campus. It is available only to United States citizens and may be renewed for four years.
There are several more scholarships for incoming freshmen from Berklee College. For more information on the above mentioned awards and other available awards, please visit http://www.berklee.edu/scholarships/entering.html. For continuing music students, there are also many arts scholarships available to you. Visit http://www.berklee.edu/scholarships/continuing.html for opportunities available to you.
DAAD Scholarships for Fine Arts, Architecture, Music and Dance
This is a graduate studies arts scholarship program from the Deutscher Akademischer Austausch Dienst for studies in Germany. It is a one academic year scholarship that can be extended for an additional academic year.
The scholarship is for United States and Canadian citizens with or without a formal college degree to complete a study program at a German institute of higher education. The area of study must be in the fine arts, music, architecture, choreography, design and film.
For a more detailed information about the program, including eligibility requirement and how to apply, please visit https://www.daad.org/gradstudy_arts.
There are many scholarships and grants opportunities available to students wanting to study in the arts field. Majority of the arts institutes, colleges and universities out there have scholarships specific to arts programs. Before applying to any institutions, make sure to find out about their scholarship programs for your field of study. Apply to as many universities as you can and you will surely win an arts scholarship at one.