What is the National Student Loan Database?
The NSLDS is a central database operated by the United States Department of Education. It is a database of student financial aid information. The database receive data from various sources including the U.S. Department of Education, loan guarantee agencies, educational institutions, Pell Grants, Direct Loan Program and federal financial aid programs. Students can track their Title IV loans and grants from approval to when it is closed.
Students can use the National Student Loan Database to track the status of their Title IV loans and grants. The website will give you information about the amount of loans or grants, outstanding balance, and disbursement information.
Access to the website
To have access to the NSLDS student portal, a student needs their social security number (SSN), the first two letters of the student's last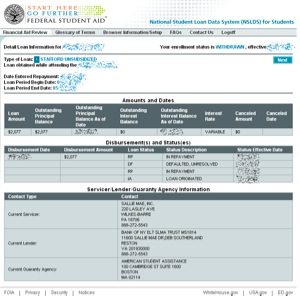 name, student's date of birth and finally the PIN (personal identification number). Students who do not have a PIN can apply here.
If you do not find your information or if you find errors about your data in the database, you have to contact the body that provided the data to NSLDS. The provider can be found when you login to the website. NSLDS is merely a depository of student loans information and receives its data from various sources. If after attempts to make corrections through the data provider fails, you can contact the NSLDS directly to make the corrections. You can contact them at:
Director, National Student Loan Data System, FSA,
U.S. Department of Education, UCP,
830 First Street, NE.,4th Floor,
Washington, DC
20202-5454
Students with nursing and medical loans cannot find information about these loans on the NSLDS website. These loans are Title VII programs and the National Student Loans Database only caters for Title IV loans. The website does not provide information about PLUS Loans. The NSLDS only provides information about loans that the student is responsible for paying. PLUS Loans are loans for parents and therefore no information about them is reported to the NSLDS.
Sources of data for the NSLDS
The National student loans database receives its data from many different sources. The norm is that the body responsible for authorizing the loan or grant is responsible for reporting them to the NSLDS. The Stafford Loan is reported by the agencies that guaranty the loan. Direct Loans are reported by the federal student loan service. Perkins Loans are reported by the various education institutions or their agents. Grants such as the Pell Grant are reported to the NSLDS by the United States Department of Education.
Students can also find a comprehensive glossary of terms associated with student loans and other financial aid programs. For those who find it difficult to decipher the complex jargon associated with these instruments, this resource will be especially useful.